How to get a
Bad Axe Michigan

T-Shirt
- with the original design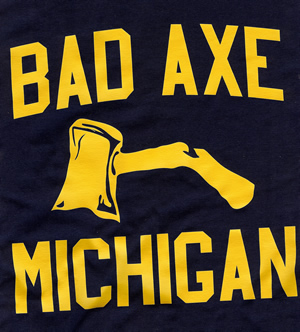 I used to have a Bad Axe T-shirt years ago until I wore it out. The new one's have a different design so when I was in Bad Axe recently I asked if they would make me one special like the original.
Someone asked me on a Black 47 gig where they could get the t-shirt I was wearing, so I decided to make this page.
- ask for the 'Fred Parcells' design Bad Axe T-shirt.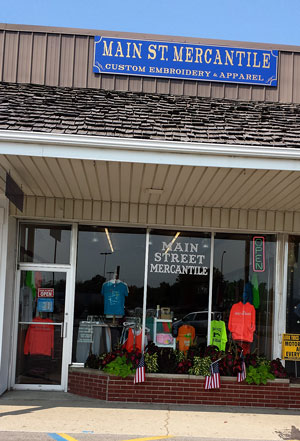 Main Street Mercantile
743 N. Van Dyke
(Next to Ace Hardware)
Bad Axe, MI
Phone: (989) 269 5070
Fax: (989) 269 9223
Email: mainstreet.badaxe@gmail.com
Facebook page

Organizers who are trying to create the world's largest broken ax, will have the ax handle in Bad Axe this week during the Hatchet Festival. The public is invited to sign the handle at Chuck's Towing on North Port Crescent on Friday from 11am until 6pm, and Saturday from 11am until 4pm. Their goal is a total of 20 thousand signatures. They need about 49 hundred more. Barb Cook said they may have future opportunities to sign, but encouraged those interested to sign up later this week. They are hoping to be recognized by the Guiness Book of World Records.
By Craig Routzahn on 7/20/2016